Former asylum seeker and refugee, Vietnamese-born Bishop Vincent Long Van Nguyen OFM has called on all Australians to show the same kind of generosity shown to him and his family when they were forced to flee their homeland after the fall of Saigon and the Communist take-over.
The then 21-year old, his parents and a brother and sister managed to escape Vietnam by boat and a year later, in December 1981 finally arrived in Australia.
In 1983, he became a Conventual Franciscan friar and began his studies for the priesthood in Melbourne the following year. Although he has spent most of his life since he fled Vietnam in Melbourne, Bishop Long is well known to many here in Sydney after spending four years from 1995 as parish priest at Kellyville.
In 2011 he made history becoming Australia's first Vietnamese-born prelate.
An Auxiliary Bishop with the Archdiocese of Melbourne, Bishop Long as he is popularly known, is also the Australian Catholic Bishops Delegate for Migrants and Refugees.
Able to speak first-hand about the migrant and refugee experience, Bishop Long says the difficulties and hardships faced by migrants in our communities are frequently overlooked.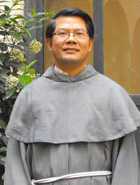 "Simple things which many of us either growing up or living in Australia for a long time often forget or simply don't notice can be a challenge for new migrants," he says and cites unfamiliarity with language, culture and customs as some of the hurdles migrants face, and which can trigger anxiety and stress as they struggle to cope with their new lives in a new land.
Last night ahead of the 101st World Migrant and Refugee Day on Sunday 30 August, Bishop Long released the Australian Catholic Migrant and Refugee Office's (ACMRO) Pastoral Resource Kit for parishes and dioceses across Australia.
The Catholic Church of Australia has dedicated the month of August to raising awareness about Australia's migrant population and has joined Bishop Long in his call for Australians to remember the difficulties faced by the many migrants who are beginning new lives in Australia.
"It is precisely in everyday situations that Christ is calling for us to move beyond ourselves and express solidarity to our fellow brothers and sisters," Bishop Long says and suggests that lending a  helping hand, or simply just saying hello or offering a smile can help a migrant feel less lost and less alone.
"Whilst the plight of refugees is often present and visible on our television screens, let us not forget the difficulties faced by the many migrants living here in Australia," he says and rges the Church and her various agencies to avoid offering charitable services alone, and to help promote real integration of migrants into our communities and into society.
"Migrants and refugees need our special attention and care as they are our brothers and sisters," Bishop Long says.
For the full article: http://sydneycatholic.org/news/latest_news/2015/2015819_1673.shtml